The Significant Various Methods of English Vocabulary Mastery of Advanced Students
Kata Kunci:
various methods, vocabulary mastery
Abstrak
There many methods of English language learners especially for advanced students to gain their target language based on some theories of concept and elements of the language learned in the academic need. In fact that it is arguable to think there is only the best one of the various methods to master the language well. Certainly it will become a meaningful choice for them which one is to be the best one to do that is suitable in their daily life. In Indonesia, the English learners have to realize that English is as a foreign language since it is not used in daily communication beside mother language such as Malaysia, Singapore, India and so on that the people use English in their daily life as a second language. Therefore they have to find the best method of how to master English well through many kinds of current useful methods stated by some newest experts and competent learners in English or other language than can be alternative choices of the best method
English learners especially advanced Students of English, Vocabulary mastery is an essential part in foreign language learning as the meanings of new words are very often emphasized, whether in book, in classrooms and out of the classroom. It is also central to language learning of four skills of English and is of paramount importance to language learners. In this article, I summarizes significance of a bunch of various methods used by some experts who have been involved in the field of English or other foreign languages that will be able to be a choice to do of how to master vocabulary well and grab their target language of how to be successful language learners as advanced students of English.
Referensi
Alqahtania, Mofareh. (2015). The importance of vocabulary in language learning and how to be taught" International Journal of Teaching and Education. Vol. III, No. 3 / 2015
Mc Carthy, M. J. (1988). Some vocabulary patterns in conversation. In R. A. Carter and M. J.
Mc Carthy, M. , & O'Dell, Felicity. (2000). English Vocabulary in Use Advanced. In R. A. Carter and M. J.
Coady, J., &Huckin, T. (Eds.).(1997). Second language vocabulary acquisition. Cambridge: Cambridge University Press.
Napa, Pieter A. (1991). Vocabulary Development Skill. Yogyakarta: Kanisius.
Nosidlak, Katarzyna Maria, ( 2013).Vocabulary Learning Strategies of the Advanced Students. Journal of Language Teaching and Research, Vol. 4, No. 4, pp. 655-661, July 2013 © 2013 ACADEMY PUBLISHER Manufactured in Finland
Nation, LSP. (1987). Teaching and Learning Vocabulary. Wellington: Victoria University of Wellington.
Richards, J.C, (1998). Beyond Training Perspective on Language Teacher Education. New York: Cambridge University Press.
Thornbury, Scott. 2002. How to Teach Vocabulary. Oxford shire: Longman Pearson Education.
Http://www.smartLanguagekamer.copyexperts-reveal-method-vocablary,(April l21th, 2017)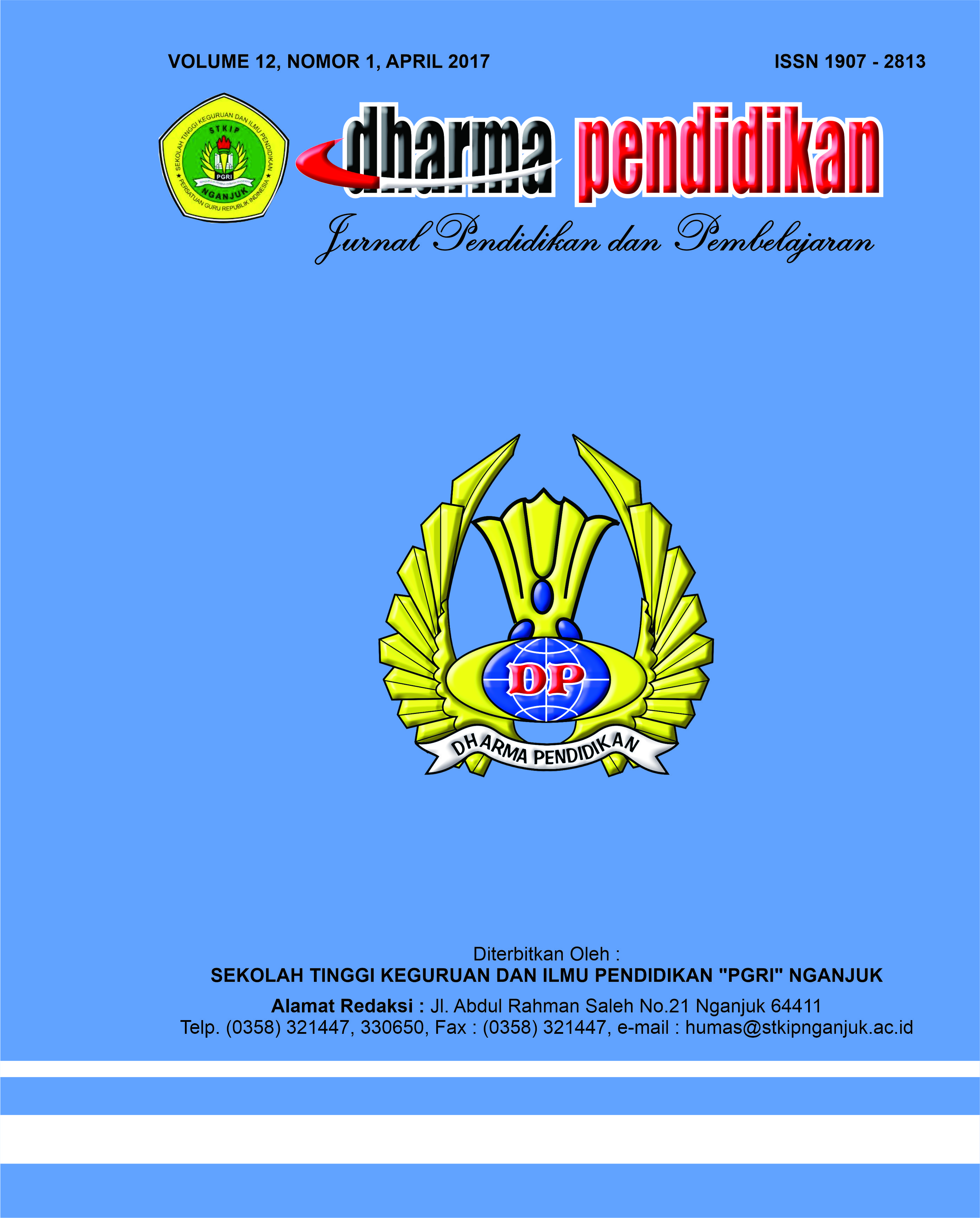 ##submission.downloads##
Cara Mengutip
Utami, R. P. (2020). The Significant Various Methods of English Vocabulary Mastery of Advanced Students . Dharma Pendidikan, 12(1), 87 - 104. Diambil dari https://journal.stkipnganjuk.ac.id/index.php/jdp/article/view/27