Designing English Material Based On Productive Reading Technique To Teach English Subject For Non-English Students
Kata Kunci:
and Non-English Students, English Subject, Productive Reading Technique
Abstrak
Designing suitable and relevance English material based on Productive reading technique is the objective of this research. Then, Proof the Productive reading technique improves the students' English skill especially for non-English students. Productive Reading Technique (PRT) is the technique which stimulates the students' critical thinking process, the activity based on Higher Thinking Order. The material which served by the researcher is related to their department. Conducting this research, the researcher used empirical study, so this research has purposes as the patron to create learning media or material for non-English Students.  
Referensi
Branch, R.M. 2009. Instructional Design: the ADDIE approach. Department of Educational Psychology and Instructional Technology University of Georgia; New York
Brown, H. D. 2007. Teaching by Principles : An Integrative Approach to Language Pedagogy 3rd Ed. San Fransisco : Addison Wesley Longman, Inc.
Rosiana, C. (2011). An Analysis Of The Students'ability On English Synonym In Reading Paragraph At Harvard English Course Pare-Kediri.
Rosiana, C. (2017). Implementing Exchange Formation Activity to Improve Students' Speaking Ability. JDP: Jurnal Dharma Pendidikan, 12(1), 1-9.
Rosiana, C. (2015). Developing Supplementary Reading Material to Stimulate the Studnets' Critical Thinking for The Second grade of Junior High School. Language-Edu, 4(7).
Rosiana, C. (2018). On-Going Morphosyntax Supplementary Material. JDP: Jurnal Dharma Pendidikan, 13(1), 35-47.
Rosiana, C., & Sujono, S. (2018). Analyzed The Students Need to Reduce Ineffective Readers Through Scientific Books. JDP: Jurnal Dharma Pendidikan, 13(2), 23-30.
Rosiana, C. 2018. Productive Reading Technique To Reduce Ineffective Readers. In The 4th National Conference on Language and Language Teaching (NCOLLT) 2018 is annual conference organized by English Education Department, Faculty of Teacher Training and Education, Universitas PGRI Adi Buana Surabaya. The conference provides the opportunity to all EFL experts, practicioners, researchers, and students to get together to share ideas, experiences, aspirations, and research findings. (p. 76).
Dick, Walter and Lou Carey. 1978. The Systematic Design of Instruction-Designing and Conducting Formative Evaluation. England: Scott, Foresman and Company
Farrell, T & Jacobs, G. 2010. Essentials for Successful English Language Teaching. Continuum: New York
Ghonsooly, B. and Eghtesadee, A.R. 2006. Role of Cognitive Style of Field- Dependece in Using Metacognitive and Cognitive Reading Strategies by a Group of Skilled and Notive Iranian Students of English Literature. Asian EFL Journal 8(4):119-150
Kahirudin. 2012. Reading and Writing Invention and Evolution: A Learning Model for Beginning Readers. Language Education, Volume 2, No 3, September
Kementrian Pendidikan dan Kebudayaan, 2013. Materi pelatihan guru Implementasi Kurikulum 2013 SMP/MTS. Jakarta: Kementrian Pendidikan dan Kebudayaan
Kristiansari, Ratih and Suharmanto. 2012. Supplementary Reading Materials for International Standard junior High School Grade Seven. State University of Malang.
Latief, Mohammad Adnan. 2013. Research Methods and Language Learning an Introduction. Stated University of Malang; Malang
Leseer,M. J. 2007. Learner Based Factor In L2 Reading Comprehension And Processing Grammatical Form: Topic Familiarity And Working Memory. Learning Language, 57 (2): 229-270
Moreillon, Judi. 2007. Collaborative Strategies for Teaching Reading Comprehension- Collaborative Teaching in the Age Of Accountability. Chicago: American Library Association
Moustafa, M. 2002. Reading Process and Practice- Third edition. California State University: Los Angeles
Nunan, David. 2003. Practical English Language. Mc Graw Hill: Singapore
Pazhakh, A and Soltani, R. 2010. The Effect of Extensive Reading on Vocabulary Development In EFL Learners In Dehdasht Language Institute. Practice and Theory in System of Education, 5(4): 387-398
Sulistyo, Gunadi H. 2011. Reading for Meaning. Pustaka Kaiswaran: Malang
Tomlinson, B. 2012. Materials Development for Language Learning and Teaching. Cambridge University Press: Cambridge
Vandenhoeck, T. 2013. Screen Reading Habits among University Students. International Journal of Education and Development using Information communication and technology (IJEDICT), 9(2):37-47.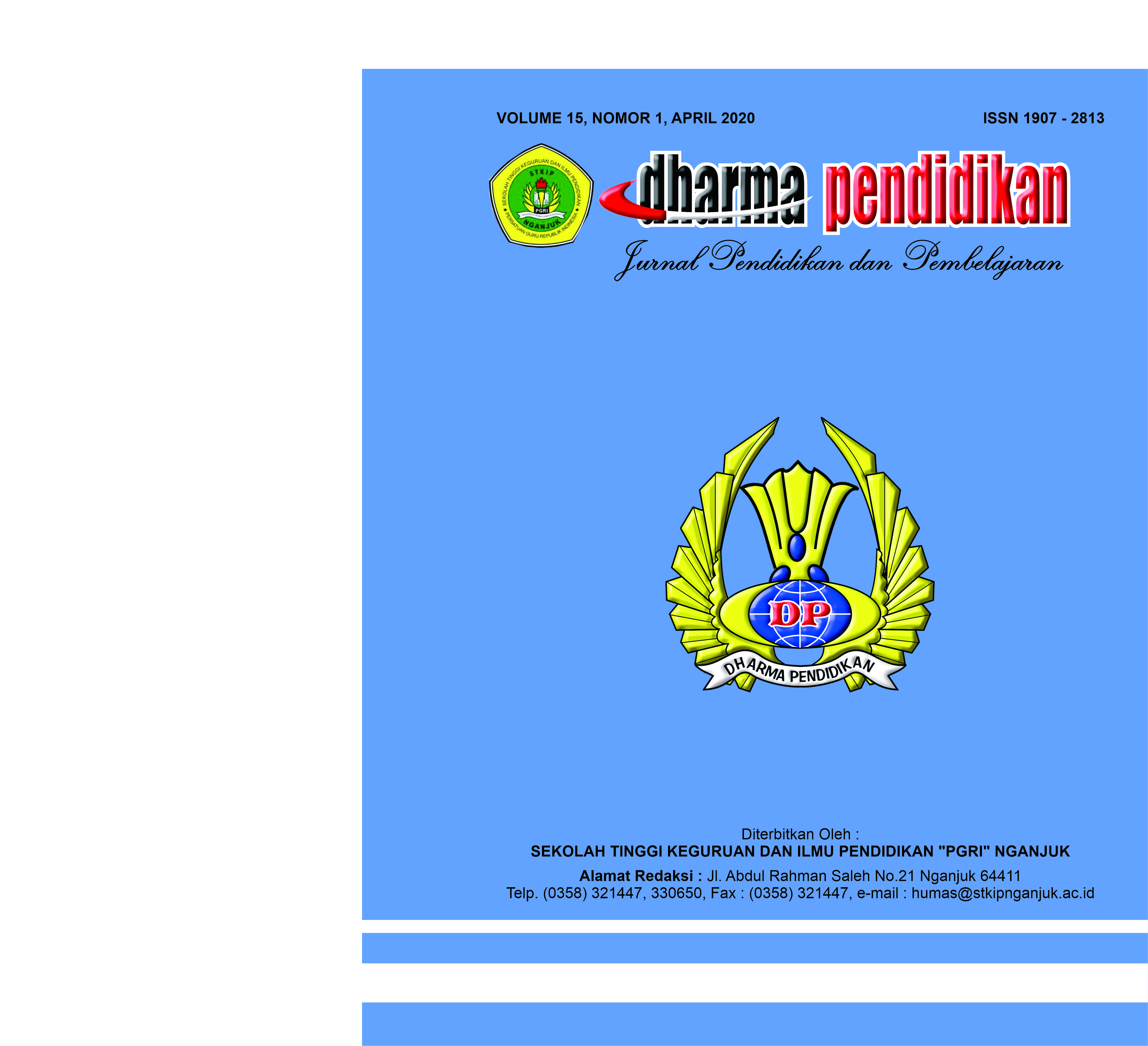 ##submission.downloads##
Cara Mengutip
Rosiana, C. (2020). Designing English Material Based On Productive Reading Technique To Teach English Subject For Non-English Students. Dharma Pendidikan, 15(1), 34-51. Diambil dari https://journal.stkipnganjuk.ac.id/index.php/jdp/article/view/55